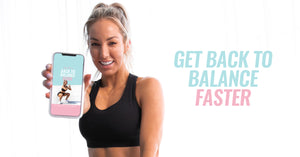 Back to Balance Guide
This super simple guide has been designed to get you back on track whenever you slip, are craving too much junk, or simply finding sticking to a healthy lifestyle all a bit overwhelming.
It is the perfect companion to my 'Balance by Ashy Bines' app and I personally use these steps every time I come back from holidays or fall out of balance to get back on track immediately.
It's not rocket science, it doesn't have to be. Just simple steps that make resetting easy and simple. I hope you love it.